Benjamin Bennett-Carpenter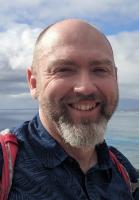 Benjamin Bennett-Carpenter, PhD, MA, teaches at a public university in North America and consults/coaches at Sollars & Associates and independently.  Benjamin is the author of Death in Documentaries (Brill, 2018) and Explaining Jesus (Lexington / Rowman & Littlefield, 2019).  He co-edits Cruel Garters, a contemporary poetry publication.  Benjamin recommends The Life You Can Save.
They're talking away
nothing urgent, nothing Earth shattering
but substantive nonetheless
like an old idea worked around from a new
​vantage point.  Did you hear about?