Amber Burke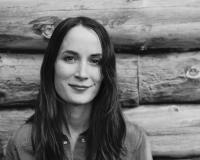 Amber Burke teaches writing at University of New Mexico-Taos, where she also coordinates the Holistic Health and Healing Arts Program. She is a graduate of Yale and the Johns Hopkins Writing Seminars, and her work has been published in the The Sun, The Superstition Review, The Michigan Quarterly Review, The Raleigh Review, Sky Island Journal, Barren, Essays and Fictions, apt and The Pinch, among others. Also a yoga teacher, she regularly contributes to Yoga International. Amber recommends Stray Hearts, the animal shelter in Taos, New Mexico. 
Let us make a barricade against the light; let us let no more light in.
We have enough light; we do not need more light.
​We will not recognize this country when it is swarming with light.