Zsuzsanna Peremartoni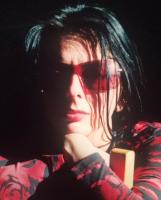 Zsuzsanna Peremartoni currently lives in Budapest. She wrote her first poems at the age of 16. At the age of 23 she lived and worked in Germany as a ceramic assistant. Exhibited in Helsinki, Vienna. Her first volume was published in 2016, followed by four more volumes of poetry. In 2018, she was the producer of a jazz poetry CD release. She has been listed in USA, as a next-generation beat poet since September 2020.
Her own CD was released in February 2021 in memory of Australian poetess Judith Wright. Poems with a didgeridoo accompaniment.
She also had two photo exhibitions in 2020 and 2021 in Budapest.