Vincent Golphin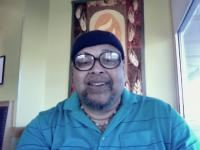 Vincent Golphin teaches and writes in Central Florida. He is widely published in magazines, journals and anthologies, most recently in the Poet Speaks series. His last solo collection, 10 Stories Down, reflected on several years in Beijing, China. Please donate to Fair Fight Action, Inc., which supports voting rights in Georgia and throughout the nation. Now more than ever the cause can use support.
Why do Black men have to be so angry?
I wondered how to not tell them that grinnin',
dancin', singin' and callin' on Jesus only go so far.
A real Black man's hurt where they cannot see,
or how he learns to cleverly hides his scars.