Rosalyn Spencer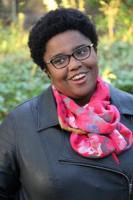 Rosalyn Spencer is the guest editor for Unlikely Stories Mark V's #BlackArtMatters issue. You can learn more about her at her editor's page.
Living my life as a creative, intellectual black woman has me just one tripwire away from destroying the psyche of so many around me.  This has always left me in a state of confusion. Confidence and strength—necessary lifelines in this skin—become a cumbersome Catch-22 in which many need me to play the jaded, angry black woman, standoffish queen, or paragon of ornamental virtue for everyone who needs a little authentic color in their life.
Carla Williams is back in the neighborhood where her parents were raised: the Lower Ninth Ward of New Orleans. There, she's opened Material Life, a populist art gallery and/or high-end gift shop that focuses on affordable pieces by outstanding contemporary artists. Guest Editor Rosalyn Spencer interviewed her for this issue.