Pui Ying Wong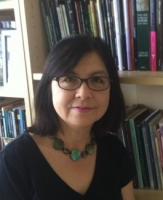 Pui Ying Wong was born in Hong Kong. She is the author of two full-length books of poetry: An Emigrant's Winter (Glass Lyre Press, 2016) and Yellow Plum Season (New York Quarterly Books, 2010)—along with two chapbooks. She has won a Pushcart Prize. Her poems have appeared in Ploughshares, Prairie Schooner, Plume Poetry Journal, New Letters, The New York Times and The Southampton Review, among others. She lives in Cambridge, Massachusetts with her husband, the poet Tim Suermondt. She recommends Hong Kong Free Press.
No, we won't save an ant today,
nor a stray.
We slurp ramen noodles, wash it down
​with schnapps, buck up for the night.
the onion you lay line by line,
a hybrid thing both occidental and oriental
is a struggle against the void.
Hybrid like love cold, like love hot, like love open-ended.