Nina Kossman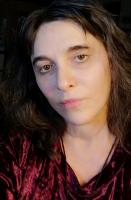 Moscow-born Nina Kossman is a painter, sculptor, bilingual writer, poet, translator of Russian poetry and playwright. She is the author of two books of poems in Russian as well as the translator of two volumes of Marina Tsvetaeva's poems. Her other books include Behind the Border (HarperCollins, 1994), a collection of stories about her Moscow childhood, Gods and Mortals: Modern Poems on Classical Myths (Oxford University Press, 2001) and a novel. ninakossman.com. Nina recommends the Rainforest Action Network.
I remember you,
free of walls and doors,
locked gates and security guards,
wardens and cell mates,
a "room for visitors",
Perhaps Gottlieb's body had never been found and is awaiting one of those nostalgic youngsters who join an annual search for the remains that, if found, are reburied with Soviet-era pomp, usually without a name, because only the lucky few are found with their papers, still legible, on them.