Natalie Parker-Lawrence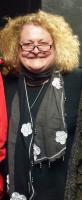 Natalie Parker-Lawrence received her MA in Linguistics from the University of Memphis and her MFA in Creative Writing from the University of New Orleans. Now a Training Instructor for the Caregiver Center at the VA Medical Center, she was an instructor in the Communication department at the University of Memphis for eight years and taught in Memphis-area high schools for forty years. Her essays and poems have appeared widely, and her nine plays have been produced in Tennessee, Illinois, New York, and Florida. Householes is her first book of poetry.
She lives in midtown Memphis with her husband and two dogs, but loves visits from her daughter, stepsons (three active US military), and their families. Natalie recommends the Elizabeth Dole Foundation.
no one teaches girls
            to fall down with grace
                        coaches yell, Slide and Get Up,
                        Hey, You Are Not Hurt,
                        No Blood, Brush It Off.