Ken Poyner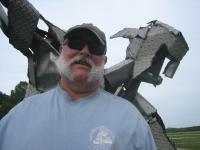 After years of impersonating a Systems Engineer, Ken Poyner has retired to watch his wife of forty+ years continue to break both Masters and Open world raw powerlifting records.  Ken's two current poetry collections (The Book of Robot, Victims of a Failed Civics) and three short fiction collections (Constant Animals, Avenging Cartography, The Revenge of the House Hurlers) are available from Amazon and most book selling websites.  Visit him at www.kpoyner.com.
Other people have better heroes, heroes
That break down less often, that come with a warranty.
But this is my hero, and I've gotten used to him.
He can, of course, murder his enemy's
Children in their sleep, re-educate
Entire societies, round up all the passable
​Women in a village to create a forced labor brothel.