Kayla Rodney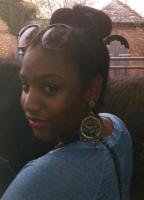 Kayla Rodney looks at the intersections of New Orleans history, her personal history, what it means to be black in her hometown, the nation, and in her mind, as well as how myth and reality marry in the eyes of storms. She has her B.A. in English from Xavier University of Louisiana, her MFA from San Diego State University, and is currently working on her PhD in English at The University of Florida where she is studying the relationship between education and race as it pertains to literature looking to find community applications.
I stick my entire body to his skin
his hair smells like a storm is coming.
As my fingers play in the ravine on his back
my body rattles like thunder beating a windowpane.
I left the south for the west
and browned like a sugar sprinkled pecan.
There's nothing wrong with brown
The yellow leasing office boy says,
I was talking about the carpet in the model unit,