Karen Webber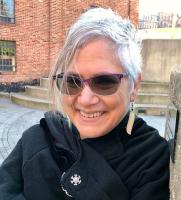 Karen Webber is a liturgical, performing and teaching artist from Baltimore, Maryland. Her work is found online in Poetica, Voice of Eve, The Jewish Writing Project and in print in Breaking Ground Magazine,The Torrid Literature Journal, Lilith Magazine among others. She recommends the Holocaust Survivor Initiative.
Roped in trios revolving,   
only one bullet per waltz.
1 dead, 2 alive as they fell to freezing
waves. The Danube turned red then, 
like the first plague against the Egyptians.