Gary Bloom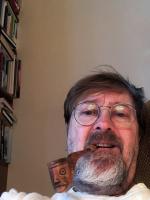 Gary Bloom was born in Minneapolis and received his degree in sociology from what is now Minnesota State University- Mankato. He later studied computer science at The University of Minnesota and The University of New Orleans. He has been a teaching assistant at a psychiatric hospital, an English teacher in Taiwan, a driving instructor for spinal cord injury patients at a Minneapolis hospital, and a computer programmer. His articles, photography, and poetry have been published in newspapers, magazines and websites, including Grit, Milwaukee Magazine, Pif, The Buffalo News, The Grand Rapids Press, Oasis, Mankato Poetry Review, Art Times Journal, Poetry Quarterly, and Black Diaspora. He is retired and lives in Mississippi. He recommends the ACLU.
The billboards advertise
Aborted fetuses, vasectomies,
Christian fellowship
And the communist UN.