F. J. Bergmann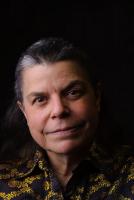 F. J. Bergmann edits poetry for Mobius: The Journal of Social Change and imagines tragedies on or near exoplanets. Work appears in Abyss & Apex, Analog, Asimov's SF, and elsewhere in the alphabet. A Catalogue of the Further Suns won the 2017 Gold Line Press poetry chapbook contest.
We wanted to fire live ammunition.
We paid attention to the warning sighs,
the subliminal hisses in the midst
of concertos—indicators that some
of the electrodes had come loose again.
You have 3 minutes.
You have to pick
3 minutes 3 minutes 3 minutes
to live over and over until they wake you—