Drew Pisarra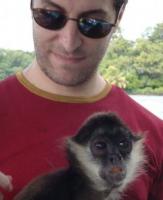 A featured poet in A Gathering of the Tribes' weekend reading marathon at The Whitney Biennial 2022: Quiet As It's Kept, Drew Pisarra is the author of Infinity Standing Up (2019), a collection of sonnets c/o Capturing Fire Press, You're Pretty Gay (2021), a short story collection c/o Chaffinch Press, and The Strange Case of Nick M. (2021), a radio play commissioned by Imago Theatre and first broadcast on K-BOO FM. Additionally, he is a literary grantee of both the Cafe Royal Cultural Foundation and Curious Elixirs: Curious Creators.
Ever nightmare through a night out, ever
lose some major coin, ever slot machine
past Mr. Right (or Mr. Whomever)
before cuddling up to Mr. Mean?
I never sleep. Not since I was six. When I had this dream which for some people might have been a revelation. But frankly there was nothing unusual about it. You've probably heard it all before. This procession of images. I was a small light flying around in space. But there were no stars, there were no planets. There was only direction and speed.