Charlie Brice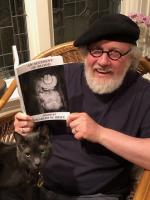 Charlie Brice is the author of Flashcuts Out of Chaos (2016), Mnemosyne's Hand (2018), and An Accident of Blood (2019), all from WordTech Editions. His poetry has been nominated for the Best of Net anthology and twice for a Pushcart Prize and has appeared in The Atlanta Review, The Main Street Rag, Chiron Review, Permafrost, The Paterson Literary Review, and elsewhere. Charlie recommends the Society for the Prevention of Cruelty to Animals. 
I'd hate to be shipped off to a land run by a tiny group with lots of money
and guns, where attending a movie, or school, or a concert
is a fear-ridden, anxious, ordeal.