Bill Freind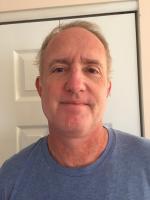 Bill Freind's book American Field Couches was published by BlazeVox in 2008, and his chapbook An Anthology was released by housepress in 2000. He's had work in the Journal of Poetics Research, Noon: A Journal of the Short Poem, Western Humanities Review, Jacket 2, and others, and he's a contributing editor at Dispatches from the Poetry Wars.
Every love is average, longs for an outside to say forever in under three minutes. In the cinemas boats capsize, buildings burn and the soft rock stylings proceed as if love were weather, its form needing no defense.
The last time I heard the word redemption was from a guy who then dropped a Springsteen impression in the Best Buy parking lot. Beyond, goldenrod, high tension wires. Vistas are temporarily unavailable.