Alisa Velaj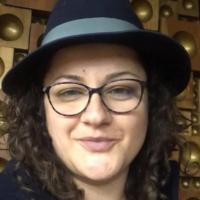 Alisa Velaj was shortlisted for the annual international Erbacce-Press Poetry Award in UK in June 2014. Her works have appeared in more than 100 print and online international magazines in Europe, UK, USA, Australia and India. Recent publications include Stockholm Literally Review, Lethe Literary and Art Journal, The Ofi Press Magazine, A New Ulster, Poetry Space, Haaretz, The Linnet's Wings, Stag Hill Literary Journal, Orbis Magazine, The Quarterly Review etc etc. Her poetry collection, With No Sweat At All, will be published by Cervana Barva Press in 2020.
To the man wandering lonely under moonlight,
these porcelain birds in a forsaken-land inn
are unmelting ice-tissue onto the aorta walls!