Alfredo Salvatore Arcilesi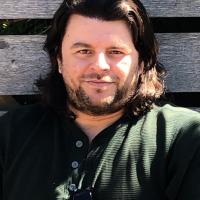 Artisan baker by trade, Alfredo Salvatore Arcilesi has been published in over 80 literary journals worldwide. Winner of the Scribes Valley Short Story Writing Contest, he was a Pushcart Prize nominee, and twice nominated for Sundress Publications' Best of the Net. In addition to several short pieces, he is currently working on his debut novel. Alfredo recommends The Toronto Public Library Foundation.
What if they knew about the lie?
What if they were in on the lie? Them. Mr. King. Ms. Shelley. Dr. Deaver. Daddy. The doctor.
And when she thought she couldn't lose another beat:
What if mommy lied to me?
Jaley was silent. For a moment, Cynth thought she had lost her caller, and, therefore, the entire gimmick—and Jaley's punishment for being twenty-one, skinny, and fuckable—but she could see the line was still live.