Madeline McEwen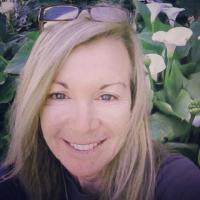 Madeline McEwen [she/her] has enjoyed publication in a variety of different outlets both online and in traditional print. 
Her fiction and non-fiction focuses primarily on disabilities [ableism] and humor.
She has numerous short stories and a few stand-alone novelettes. Her latest short story, "Stepping On Snakes," appears in the Me Too Anthology edited by Elizabeth Zelvin published by Level Best Books, and "Benevolent Dictatorship" published in Low Down Dirty Vote Volume II edited by Mysti Berry.
"Captain Finn has his eye on you. Henceforward, your work will be supervised by Rank Two Officer Deft, the promising young woman who recommended your posting. You would do well to follow her example, just as she has followed her mother, a decorated officer from the Great Sucrose War."