R.T. Castleberry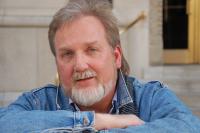 R.T. Castleberry was a co-founder and director of the Flying Dutchman Writers Troupe, a literary performance group. He was co-editor/publisher of the Flying Dutchman Writers Troupe poetry publication Curbside Review.
He has published poetry in Roanoke Review, Comstock Review, The Alembic, Green Mountain Review, Santa Fe Literary Review, Misfit, Pedestal and Concho River Review. His work has been featured in the anthologies, Travois-An Anthology of Texas Poetry, TimeSlice, The Weight of Addition, Blue Milk's anthology, Dawn, Soul X Southwest, Anthem: A Tribute to Leonard Cohen, Kind Of A Hurricane: Without Words and You Can Hear the Ocean: An Anthology of Classic and Current Poetry.
He recommends the Houston Food Bank.