C.F. Roberts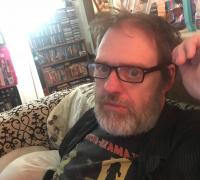 C.F. Roberts is a writer, visual artist, videographer and antimusician living on the Autism Spectrum in Northwest Arkansas with his wife, writer Heather Drain and a small menagerie of animals. He published and edited Shockbox: The Literary/Art Magazine with Teeth from 1991 to 1996. He sings lead for the rock band, the S.E. Apocalypse Krew while also commandeering his own industrial project, 90 Lb. Tumor. He has numerous poetry, fiction and review publications to his credit, most recently in Fearless, Gutter Eloquence, Paraphilia, Barking Sycamores, Pressure Press, Vagabonds: Anthology of the Mad Ones, Crab Fat, The Birds We Piled Loosely, Blue Collar Review, Corvus Review and Antique Children.
Besides, he thinks, changing your name legally to "Spider-Man" is stupid. Spider-Man is a popular character consumed by the masses for no good reason and to no good end. There is nothing special, risky or meaningful about such a move.
His mother let him out of the car and he raced inside. It was time for Yogi Bear. As the sky darkened, he watched Yogi Bear, he watched Pixie and Dixie and he watched Huckleberry Hound. The cartoon characters and their ironic dilemmas confounded him.