Scott Wiggerman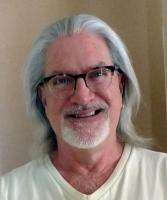 Scott Wiggerman is the author of three books of poetry, Leaf and Beak: Sonnets, Presence, and Vegetables and Other Relationships; and the editor of several volumes, including Wingbeats: Exercises & Practice in Poetry, Bearing the Mask, and 22 Poems and a Prayer for El Paso. Poems have appeared recently in Gyroscope Review, Unlost, Shot Glass Journal, San Pedro River Review, and Ted Kooser's American Life in Poetry column. His website is http://swig.tripod.com. Scott recommends Lambda Legal.
Endless deficiencies exposed, features that exemplify America: gruff,
grub-hungry, godforsaken, hateful and hated. In fits of childish
impertinence, not great, but intransient and irrelevant as the Raj,
knick-knack of another know-it-all empire totally out of control.