Scott Thomas Outlar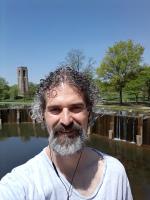 Scott Thomas Outlar is originally from Atlanta, Georgia. He now lives and writes in Frederick, Maryland. His work has been nominated multiple times for both the Pushcart Prize and Best of the Net. He is the author of seven books, including Songs of a Dissident (2015), Abstract Visions of Light (2018), Of Sand and Sugar (2019), and Evermore (2021 - written with co-author Mihaela Melnic). Selections of his poetry have been translated and published in 14 languages. He has been a weekly contributor at Dissident Voice for the past eight and a half years. More about Outlar's work can be found at 17Numa.com.
What happens when chaos becomes beautiful?
When the lightning falls,
when the old guard topples,
when the broken bell tolls
​for the final time?