Sanjeev Sethi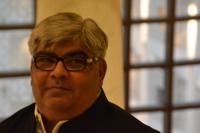 Sanjeev Sethi is the author of three books of poetry. His poems are in venues around the world: The Broadkill Review, Synchronized Chaos, Mad Swirl, After the Pause, Horror Sleaze and Trash, Former People, The Piker Press, A Restricted View From Under The Hedge, Bonnie's Crew, The Pangolin Review, Postcolonial Text, Be Untexed, and elsewhere. He lives in Mumbai, India.
Held dear for one,
horsefeathers for another.
Both, valid and worthy.
Each as credible as the other.
When the buzz of mosquitoes is music,
lampblack is a painting on one's wall. 
When taps are stark, streets are lightless,
circuitous human trails at every trestle: