Larry D. Thacker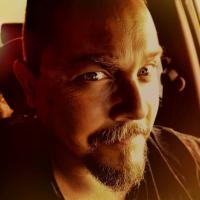 Larry D. Thacker's poetry can be found or is forthcoming in over fifty journals and magazines including The Still Journal, The Southern Poetry Anthology: Tennessee, Mojave River Review, Mannequin Haus, Ghost City Press, Jazz Cigarette, and Appalachian Heritage. His books include Mountain Mysteries: The Mystic Traditions of Appalachia, and the poetry books, Voice Hunting, Memory Train and the forthcoming, Drifting in Awe. Check out www.LarryDThacker.com.
Ghosts come calling. Fill your voice mail,
search you out in want ads, bloat your belly
all night with confusions of 0s and 1s.
​Indecipherable guilt leaking into the lines.