G. B. Prabhat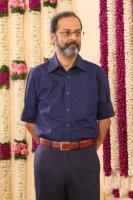 G. B. Prabhat's novels are Chains (2000), Eimona (2006), and Early Indications (2012). His short stories have appeared in Asia Literary Review, The Hindu and The Indian Express. Some stories have been translated into Telugu and Hindi.
Prabhat is a bilingual writer who writes in Tamil also.
His debut collection of Tamil poems, Engiruntho Vanthavai (Of Unknown Origin), was published in 2020 by Cre-A.
Prabhat has spent over 30 years in the IT and consulting industry and is widely considered the pioneer of the offshore consulting model. He has an undergraduate degree in Mechanical Engineering and a graduate degree in Computer Science.
Prabhat lives with his family in Chennai, India.
Mother could never have taken care of thatha, who weighed a formidable 95 kilograms, all by herself. He had to be supported on his way to the bathroom and back, and when he wanted to rise from the chair and lie down or the other way round.