Celestine Woo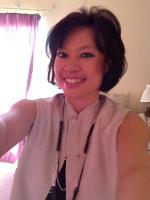 Celestine Woo is an English professor at Bard Early College in Newark, NJ. She is also a dancer and former choreographer. She has published a book of poems about modern dance (Clare Songbirds Publishing), a chapbook of poetry (Pudding House Press), as well as numerous poems in literary journals. She has published scholarly articles and a book on Shakespeare.
I can muse on inequity and stereotypes
safe in the comfort of my paycheck
and business attire.
I can waltz by the cops in and around
the train station, wary but unafraid for my life.
The crashing of the English canon in Spanish Harlem
Resounds like cymbals in dissonant reverb:
The path out of poverty is strewn with dead white poets,
Whose diction students strive to emulate,