Nasrin Parvaz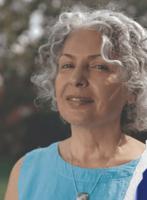 Nasrin Parvaz became a civil rights activist when the Islamic regime took power in 1979. She was arrested in 1982, and spent eight years in prison. Her books are One Woman's Struggle in Iran, A Prison Memoir and The Secret Letters from X to A (Victorina Press 2018).
Nasrin's poetry and stories have been published in different anthologies. Her paintings were accepted for inclusion in the exhibitions, Calendar and for postcards. Learn more at NasrinParvaz.org.
With each new encounter, she wondered whether she'd be able to bear it and see the act through to the end.  Or would this be the one where she'd feel so sick that she couldn't take any more and be overwhelmed and long to flee?  Would she be in danger of being beaten or killed?