Judy Dercksen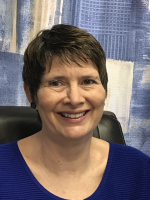 Judy Dercksen is a family doctor, pain and PTSD consultant, and provincial family physician for British Columbia's ECHO for pain. She's also been published in medical journals, The Tyee, Vancouver Sun, Emerge 2020, 101 Words and Piker Press. Her website is https://painimprovement.com. Judy recommends Pain BC as her charity of choice.
We didn't have time to complete much of a medical history, but I knew she was a sex worker and soon I'd be treating her customers. After my examination, I gave her a prescription to take to our pharmacy. Elliot handed her condoms on her way out.
The siren sound of labouring mothers—groans and intermittent screams—came from behind the swing doors, and, when we pushed them open, we were greeted with the smell of bleach and Dettol.