CL Bledsoe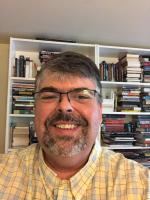 Raised on a rice and catfish farm in eastern Arkansas, CL Bledsoe is the author of more than twenty books, including the poetry collections Riceland, Trashcans in Love, Grief Bacon, and his newest, Driving Around, Looking in Other People's Windows, as well as his latest novels Goodbye, Mr. Lonely and the The Saviors. He's been published in hundreds of journals, newspapers, and websites. Bledsoe lives in northern Virginia with his daughter. He recommends Planned Parenthood.
We made hours to have something
to count, so dying is another
name for productivity. Clean
​as you go so you have time to dread
I set candles for points and poured out a pentagram. There was usually a sacrifice. I had some leftover Popeye's chicken, so I set the box in the center. In movies, the teenagers who inadvertently summon demons are usually drunk. I hadn't taken my meds yet. That was the best I could do.