Carol Dorf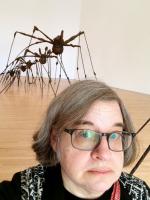 Carol Dorf has three chapbooks available, Some Years Ask (Moria Press), Theory Headed Dragon (Finishing Line Press), and Given (Origami Poems Project). Her poetry and prose have appeared in Poemeleon, Abyss and Apex, E-ratio, Great Weather For Media, About Place, Glint, Slipstream, The Mom Egg, Sin Fronteras, Surreal Poetics, The Journal of Humanistic Mathematics, Scientific American, and Maintenant. She is founding poetry editor of Talking Writing. She is interested in the intersections between poetry, disability, science and parenting. Carol recommends Fair Fight.
In my childhood there were fathers to fear and nuclear war. Radiation. This was before children were given Sadako and the Thousand Paper Cranes, so no wonder we felt hopeless in spite of the cans my grandparents kept in the basement.
You are not even an insect evading a predator. Instead, you sit on the floor breathing, because really there is no choice in this life but to allow air in and out of your lungs thousands of times an hour.