| | |
| --- | --- |
| La Negrita Chronicles an eleven-scene play by Frania G. Romulus | "Its Babies From," "Afro-Nowism," "Ain't Over" and "Future Primitive" by Kenning JP Garcia |
| Lamprophony by Michael Harold | Editor's Afterword to #BlackArtMatters by Rosalyn Spencer |
| Handa Wanda by Professor Arturo | Ten Paintings for #BlackArtMatters by Eugene J. Martin |
| "My Uncle Roscoe is an Artist," "Borg Adjacent," "Ladonna Waits on the Suburban Women's Book Club," and "Scrawl" by Nordette A. Adams | Hush Harbour by Jemshed Khan |
| Sterling by Matthew Landers | Marginalization by Vincent A. Cellucci |
| Frank Yerby's Challenge to the Myth of White Southern Womanhood by Matthew Teutsch | A Good Man is Hard to Find by Elva Diane Green |
| Thanksgiving by Bobby Wilson | Lunch with Christian Racists by Belinda Subraman |
| "Black Boy" and "Dixie" by John Warner Smith | Limited Edition Maya Angelou Stamps by Christopher Shipman |
| "Black Holocaust," "Placage," "Passe Blanc," and "Musing from the Condohood" by Kayla Rodney | "I'm a Hater," "Nigger Lawyers," and "A Love Supreme" by Professor Arturo |
| "crowd," "i have a habit of remembering your names," and "Remember Upon Entering a Convenience Store" by Karisma Price | Aunt Thelma the Arborist by Bernard Pearce |
| How to Be a Black Girl in America by Gwendolyn Joyce Mintz | "What Pace" and "Why Bald Eagles Won't Recross the Road" by Knowledge! |
| Gardens and Carnivores by Vernon Keeve III | "Childhood Fantasies," "Good Parenting," and "Nigga I Am" by Alex "PoeticSoul" Johnson |
| Black Art, Black Lives, Black Women … by Patricia Gomes | "Hood-Matters," "The Nigger Survived," and "We shared coffee and milk in a dream..." by Charles Claudel Garrett I |
| #AllLivesMatter (Unless…) by Caroline Cao | The Automation of Poverty by Terry A. Burton |
| I Don't Know by Stephanie Ambroise | "Yellow Music Room" and "Missandei" by Dwight J. Roy and Electric Seed |
| "Hollow" and "Get Somethin'" by Avalon Frost with Lumanikus | Too by Bryant Rodriguez |
| Walk Softly by Nikki Napoleon, video by Jessica Bordelon | An Interview with Carla Williams of Material Life by Rosalyn Spencer |
| Four Paintings for #BlackArtMatters by Terry A. Burton | |
Editor's Afterword to #BlackArtMatters
Living my life as a creative, intellectual black woman has me just one tripwire away from destroying the psyche of so many around me.  This has always left me in a state of confusion. Confidence and strength—necessary lifelines in this skin—become a cumbersome Catch-22 in which many need me to play the jaded, angry black woman, standoffish queen, or paragon of ornamental virtue for everyone who needs a little authentic color in their life.  I sometimes find myself exhausted by the mental and verbal matches required in allowing everyone the ability to be comfortable around me.
I know many women of color, many creative women of color, who are trapped in this small span of others' perceptions.  The magical negress feeding the creative soul of her white children, giving sustenance and absolution from pain. Their pain of knowing that even in the midst of being able to create art, suffering for your art—your lives always include a certain freedom.  The magical negress inevitably finds her breasts sore, depleted.  Her creative output is admired as long as it does not encroach upon a sense of your own normalcy.  Her gifts are admired and adorned to accentuate your own creative output.  This magical negress of intellect is the colorful background which helps give richness to your own story.
I find myself at a crossroads. Over the last few years, the fear of otherness has become louder and louder, snuffing out and smothering the voices of people of color.  The faces of the schoolchildren I teach are reflected on the news. Young lives are extinguished, and a laundry list of what-they-should-not-have-done follows, along with endless explanations of why the deserved their fate. My students take away an obvious conclusion: don't be human, do not stir fear into your oppressors' hearts, do not give voice to your pain.
In these mixed feelings—amidst the images of the rage and helplessness of the maybe future vision of children I teach, I realize how Black Art Matters. We need more than a simple showcase of our art. We need to understand that the complexity of the Black identity must be cultivated.
We have birthed movements of music, dance, art and literature, yet we are seen as a single, and highly disposable, category of the arts. It is an untenable situation. Black voices must be acknowledged and preserved. They must be more than a footnote to knowledge of music, a sprinkle of authenticity in a jewelry collection, or an acknowledgement of the primitive in art. We must be more than the magical negro or negress, the angry black man or woman or the background that gives your work legitimacy. Our artists can no longer be engulfed in— and sacrificed to— the mainstream: a fad, an origin story, a tombstone in a pauper's grave.  We must embrace our otherness, celebrate it, and find our freedom in our creativity. It is our birthright: to throw off the smothering layer of mainstream acknowledgement and gratitude, and embrace the beauty of Black Art in all its multifaceted glory.
I do not reject or deny my non-Black colleagues, friends and lovers when I celebrate Black Art. I see color and I love every shade of it, along with the varieties of art that come from its creators. Likewise, I refuse to be ashamed when I embrace Black Art. I refuse to deny its importance. I refuse to allow its importance to be denied. We cannot allow the snuffing, suffocating and silencing of our voice.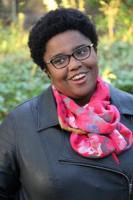 Rosalyn Spencer is the guest editor for Unlikely Stories Mark V's #BlackArtMatters issue. You can learn more about her at her editor's page.