Lunch with Christian Racists
We held hands around the table
at Applebee's and prayed before eating.
Fox Network was there and low self-esteem.
"The white cops were right," they chanted,
more Blacks need beating
and we need more guns.
Too many getting rich off welfare
too lazy to work."
"Christians have no rights," one claimed.
"What about the Christians?"
I kept quiet. Dogs were howling for meat.
Jesus turned his head away.
Bibles slept in the their cars.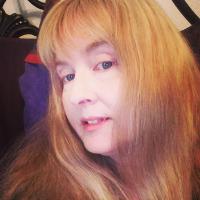 Beside writing and publishing for decades, Belinda Subraman was a Registered Nurse for 14 years, mostly in hospice. She's also an artist working in ink and acrylics.  She's a member of several drumming groups and has been playing African rhythms for over five years taught directly from African masters.  She also has a daily yoga practice and a book of poetry called Left Hand Dharma published by Unlikely Books in 2018.