My dear sweet aunt Thelma
one Christmas eve
she spoke to me about a tree
there was sorrow in her voice
when she pointed it out to me
a great grand majestic oak
she said with her own eyes she had seen
men with horses
men with rope
tie a loop and wrap a noose
around the neck
around the throat
of a little black boy just like me
and let him swing
and let him choke
until he was still
until the spirit had left the body
this little black boy
had been bad 
this little black boy
had been naughty
so she said to me
you be a good boy
you stay out of trouble
you comb your hair and you brush your teeth
press your clothes and shine your shoes
smile smile nice and wide and mind the rules
because little black boys
little black fools
can end up in trouble
can end up swinging from a rope
under the shade of that old oak tree
and that my boy is not where you want to be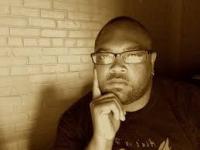 Bernard Pearce is a Louisiana native, born in the rural community of St. Martin Parish. He attended St. John's College in Santa Fe, New Mexico and returned to Louisiana to pursue a life immersed in music and art. He has owned and operated several music and arts venues in Lafayette, Louisiana. Bernard has recorded and released two full-length recordings with his band One Man Machine and has toured internationally with this group. He has participated in a residency sponsored and organized by The Lower Manhattan Cultural Council in New York City. Bernard has also read at the Allen Ginsberg memorial. Bernard has recently published a collection of poems, photos, and visual art entitled The Deed to My Bones.