"Yellow Music Room" and "Missandei"
Songwriter and bluesman Dwight J. Roy founded Electric Seed in his home town of Lafayette, Louisiana. In 2013, they released The Metal Heart EP, featuring the song-cum-poem "Yellow Music Room:"
In 2016, Dwight recorded the song and video "Missandei," an ode to the Game of Thrones character: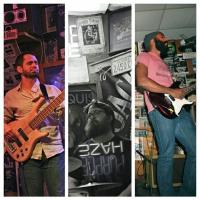 Electric Seed is the brainchild of Dwight J. Roy, taking the ethos, earthiness, and technical skill of the blues and breathing life back into its old bones. It features Dwight on guitar and vocals, Edward Coussan on bass, and Zach Rhea on drums.