The audio in this film comes from a poem interwoven through Kendrick Lamar's 2015, album, To Pimp a Butterfly. Check out the video for Lamar's "Alright."
This short film also draws inspiration from the following statement regarding the phrase, "black lives matters:"
"The phrase 'black lives matter' also has an implicit 'too' at the end: it's saying that black lives should also matter. But responding to this by saying 'all lives matter' is willfully going back to ignoring the problem. It's a way of dismissing the statement by falsely suggesting that it means 'only black lives matter,' when that is obviously not the case. And so saying 'all lives matter' as a direct response to 'black lives matter' is essentially saying that we should just go back to ignoring the problem."
          Reddit user "GeekAesthete"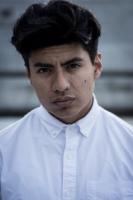 Bryant Fernando Rodriguez was born in Dallas, Texas but he mostly grew up in Mexico and Minnesota. He's currently going into his senior year of his B.A. in Theology and along with poetry, he dabbles in filmmaking, photography, public speaking, and essaying. Check out BryantFRodriguez.com.