"My Uncle Roscoe is an Artist," "Borg Adjacent," "Ladonna Waits on the Suburban Women's Book Club," and "Scrawl"
My Uncle Roscoe Is an Artist
Music. Drum.    Spirits behind terracotta tiles
push a woman and man forward
          in the picture.
She's on keys. He strums a mandolin. This pair,
glossy in red and brown, in black glazes, have played even
under fire, were laid as we were, under sun,
under centuries of fire, working song
like adinkra-coded iron on French Quarter doors.
Bright glazes. Fired and fired again.
The composition speaks, "We've leaped cotton
to chainless days with music since the slavers
stole us.
              We've sung blues prayers
and turned our bodies into drums for joy and Djouba.
We've jived. We've jitterbugged."
My uncle's artwork, a spirit.          One part
of sky's cerulean while a puzzle of sun shines fine gold
on another. Yellow circles mirror through the Vieux Carre's  
crafted ironworks, and unseen, pointing at God,
the cathedral's steeple. Its slave-made sankofa transmits,
           "Remember us."
He fired, he laid the 14-karat glaze.        An echo
echoes, "Wade in the Water, children. Wade," beyond
the Super Dome in the distance.             This picture
           belongs to this pair in red. Cubistic
​badasses of the 70s, they jam in a Holly Grove joint, I think,
channeling ironworkers' bars of music into now,
onto blue and green tile beneath the players' feet.
Any moment, dancers may bound from their improvised melody,
doing the Manjani, shouting to us, the weary,
"Onward, my people. Onward."
---
Borg Adjacent
Poem above shredder,
our dreams deemed disposable
by banks, by legislative bodies.
We hear steel teeth ripping verses,
protest as much as they allow,
and stockpile tape.
---
Ladonna Waits on The Suburban Women's Book Club
She gets up before dawn's light,
brown-eyes headlines made last night.
That boy, maybe, was not polite
enough to live.
Waiting tables, she overhears
the women's book club's white flight fears.
"Weren't we smart so many years
ago to flee
this city. Blocks turned too black.
But our children have moved back.
We've warned of possible attacks."
Placing plates, she thinks,
Gangs or stop and frisk. Dead child.
Parents have warned them, "Stay docile."
That boy, likely, wouldn't play servile
for the police.
She has no children but nephews,
nieces, she shoves in church pews,
hopes she'll never sit there through
one's funeral.
The book club, on to eating cakes
with café au lait, commiserates.
"Our offspring buy up mistakes."
She rolls her eyes.
Their lives must be so worrisome.
Their young, rebelling, buy black slums.
The check.    Free, white, and twenty-one
is still a thing.
---
Scrawl
I should write more about nothing.
Snatch that privilege.
For a little while, just cuddly light letters, no sharp,
leaden syllables pressing down shoulders.
Ashes and sackcloth, thorny diadem, off!
Black poets
deserve the luxury of writing about nothing—
sometimes—
to speak for no one,
rest on their backs, deep in lush green and gaze
up at the blue and fluffy.
I want to exhale. Inhale. Out, in,
give no account for
every black person in this defecating world,
every damned black mug shot on the 6:00 news,
every black politician waving Jack Horner thumbs,
nor the indisputably black HIGH unemployment rate or
"What's with the unmarried mamas, the absent papas?"
nor low test scores, disproportionate drop-out rates, manufactured welfare queens—
stay mum on all black slipping, our stumbles in slow-mo on instant replay screens.
No more apologies for flesh: brown-legged girls, bubble cheeks peeking out short-shorts,
brown-bottomed boys with pants drooped around their asses.
 "Explain yourself, O' great, mythic black monolith," they demand,     
and "What does Kendrick Lamar mean?"
          No.
No to analyzing the right to say "nigger" or the fight not to ban "nigger"
or to explaining amidst white confusion why they can't say "nigger."
          No.
Not another railing verse at Grand Wizardly machinations either because
everywhere, always there will be Grand Wizardly machinations because.
I want to write a poem about my love, a red red rose.
I want to pen a poem about fans of budding twigs, too, and fleas.
Will black poets ever at leisure paper the world with umbilical-cord contemplations
then recline on the plush, green mountain, dream raisins in rain, not sun?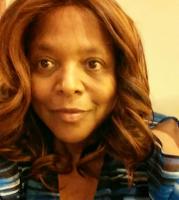 Nordette N. Adams lives in New Orleans, Louisiana, in her late parents' post-Katrina remodeled home. Her work has appeared in literary journals such as Quaint Magazine, Adagio Verse Quarterly, About Place Journal, and Rattle Magazine's online "Poets Respond" series. If you should happen to open the Oxford English Dictionary and find that the usage examples for the word "rabid" no longer insult feminists, you may thank or not thank her and other scholars for that improvement. Adams also has an MFA in Creative Writing from the University of New Orleans. You may learn more about her at Her411.com.