Feeding frenzy of game
"doesn't have to shoot
               like summer says"
                       imposition of the unwanted
                       sidewalk guest
                       to the Corinthians
I dream and I am no man
                           slow spiders
                           sick my shirt off
                           sat under skirt
                           loose-footed
                           laughter
                           inside
                           her legs
                           are yes
                           better
                                        the blunt
                                        than the blow
                                        colder to be the gun
                                        than the bullet
                                        winter's gun season
                                        summer's bullet season
                                                    molten stingers, scorpions of the universe
                                                       exhausting revelation
                                        lips bursting more
                                                       men in me
                                        children I uphold the heavens
                                        drunker than country
                                                       a pack has now formed
                                        nature's ordained us to lynch the night
                                        without reason or grace    these     are side beliefs
                                                       the hunted are still slaughtered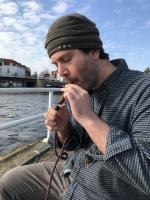 Vincent A. Cellucci wrote Absence Like Sun (Lavender Ink) and An Easy Place / To Die (CityLit Press). He edited Fuck Poems an exceptional anthology (Lavender Ink). He has three collaborative titles: come back river (Finishing Line Press), Bengali-English translation collaborations with Debangana Banerjee, and with Christopher Shipman ~getting away with everything and _a ship on the line (both from Unlikely Books). Vincent performed "Diamonds in Dystopia," an interactive poetry web app at SXSW in 2017, and the poem was anthologized in Best American Experimental Writing 2018. After writing and living it up in Louisiana for 18 carnivals, he moved to the Netherlands to experience sinking some place new. He haunts the TU Delft Library.