Cellucci, Vincent A.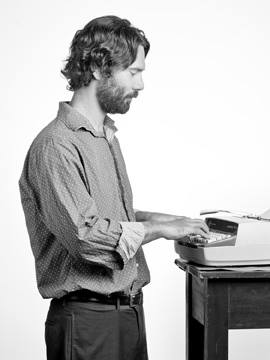 Vincent A. Cellucci is a writer and the College of Art + Design's Communication across the Curriculum Studio Coordinator at Louisiana State University. He specializes in poetry, 3D scanning and printing, portfolio development, and teaching and writing in the art and design disciplines.
Vincent received his MFA from Louisiana State University and he attended Loyola University New Orleans to earn his Bachelor's degree in English Writing with a background in studio arts by cross-enrolling at Tulane University. While in graduate school, Cellucci contributed, edited, and produced a collaborative (including Andrei Codrescu) audio novel, The Katrina Decameron, which was released on iTunes in late 2010.
A few of his publications include poems, translations, and reviews in The Berkeley Poetry Review, Exquisite Corpse, New Delta Review, New Orleans Review, moria, The Pedestal, So and So Mag, TENDE_RLOIN, and Toad Suck Review.
An Easy Place / To Die (CityLit Press, 2011), his first book of poetry, explores the neutral ground of extinction and immortality between post-Katrina New Orleans and the Epic of Gilgamesh. In 2012, Vincent edited Fuck Poems an exceptional anthology, an offense for contemporary poetry comprised of original and collaborative works of over 50 living poets (Lavender Ink). After the anthology, he pursued collaborations, releasing with the printmaker and poet, Debangana Banerjee, a chapbook of contemporary Bengali-English poetry translations titled come back river (Finishing Line Press, 2014).
Cellucci is the founder of River Writers, a downtown Baton Rouge reading series. He also paints and designs digital broadsides.