~getting away with everything
by Vincent A. Cellucci and Christopher Shipman

$18 paperback, $4.99 e-book
978-1-7337143-8-9 paperback, 978-1-7337143-9-6 ebook
Buy the paperback on Amazon or the ebook on Kobo!
At long last, ~getting away with everything is the follow-up to Vincent A. Cellucci and Christopher Shipman's 2014 Unlikely Book, _a ship on the line. Whereas _a ship on the line focused on the Mississippi River, ~getting away with everything is all about New Orleans, and the bittersweet ways in which the authors chose to leave it. This massive tome (weighing in at 248 pages of poetry!) is beautifully designed by Vincent A. Cellucci, with back and front cover collages by Christopher Shipman.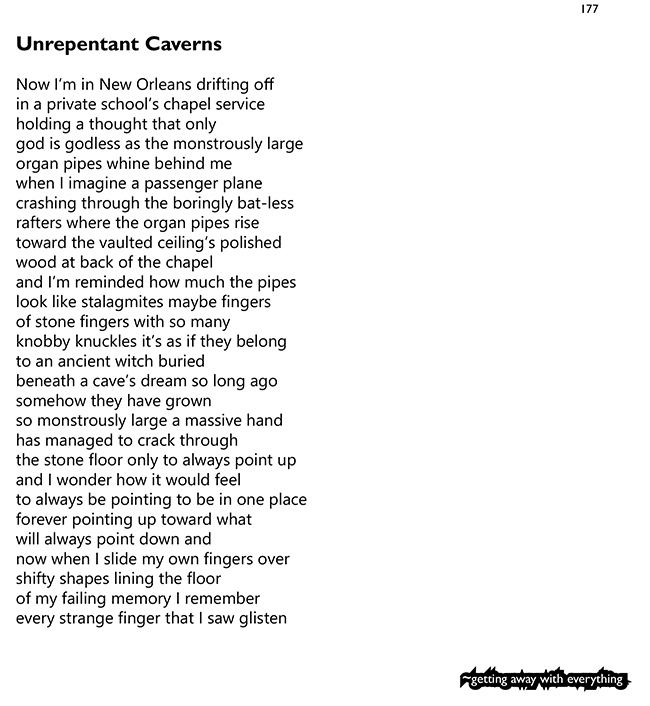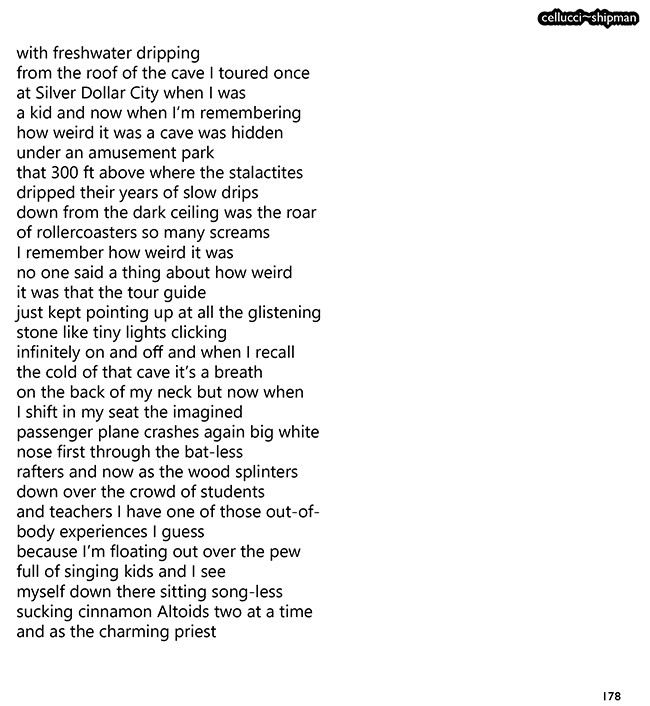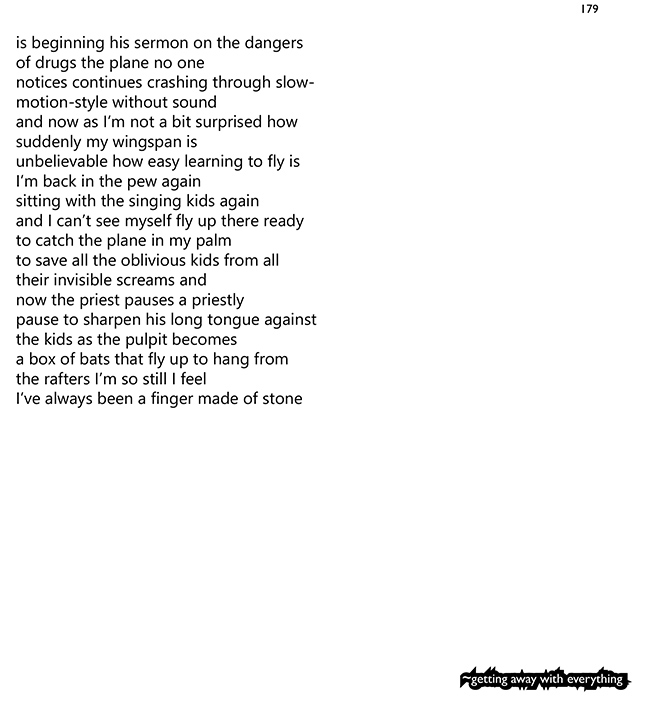 Check out what people are saying about ~getting away with everything:
"This single poem by a double poet is one of lament and elegy, a hymn to a lost place (New Orleans) and to a lost life (pre-Covid), but it is also a song of exuberance and hope, a conversation about loss that yet celebrates the possibility of conversation. The two poets, who are not distinguished by any textual markers, speak themselves in multiple registers, ranging from the intensely personal to the broadly social and political, so the effect is ultimately of a round of voices alternating and overlapping. Entertaining, uplifting, and brilliant. And if you lose track of who that 'I' is referring to at any given moment, ask if you're all that certain when you say it yourself."

—Bill Lavender, author of My ID and Three Letters
"The bad boys of poetry are back! In this second collaboration we see Vincent Cellucci and Christopher Shipman still enjoying their high jinx, surprising metaphors, attention to sound and deep investment in place. But they also have grown and deepened; the 'former reprobates' now take on fatherhood, jobs, moving, and aging. ~getting away with everything is an immensely lively book."

             —Beth Ann Fennelly, author of Heating & Cooling: 52 Micro-Memoirs
"~getting away with everything is a collection of comings and goings but also what staying entails. Shipman and Cellucci come together seamlessly in this series that is a long series of breaks. This is a book that reaches down into the depths of deep song and works its way towards what I call deep reflection. These poems are mirrors and windows into what once was and who one once was. The poems look back and show what kind of potential there is in the sentimental and how not all nostalgia is naive and positive. Instead, the pieces crack open the moments for investigation and apply thought and feeling to experience in tragic and maybe dark romantic ways, but their eyes are always on what might come next."

             —Kenning JP García, author of Furthermore
From the Publisher's Preface by Jonathan Penton:
Beginning with the title, which the authors spin, riff on, and undermine throughout the book, ~getting away with everything (~gawe) meticulously chronicles their good fortune, both their joy while living in Louisiana and their optimism upon leaving. Though it is not told in chronological order, the book has a narrative structure: they consider New Orleans, they leave the area, and they try to find their way in new environments. As poets, they explore every step of their geographical and emotional journeys.
In some ways, _a ship on the line (_asotl) and ~gawe are part of a single, continuous poetic thread. Their creation was simple enough. Shipman woke up first, wrote a poem, and sent it to Cellucci. Cellucci woke up, read it, and wrote a poem in response. He sent his poem to Shipman, who wrote his own response. This pattern has continued for almost a decade, now (though time zones have caused the order of production to reverse). But when reading these books, don't assume you know what was written by whom. Some poems offer straightforward details of the author's life, revealing his identity. In many more, the author's identity is slippery, and the poems do not necessarily appear in the order in which they were written. As poet and publisher Bill Lavender says about ~gawe, "And if you lose track of who that 'I' is referring to at any given moment, ask if you're all that certain when you say it yourself." On one level, this book is two distinct and different stories. On another, it is the deliberate intersection and melding of those stories. The result is a tale that is archetypical and epic: the survivor in flight, identity unspecified. New Orleans is a famously romantic place, an exciting backdrop for stories of exodus. But the themes of ~gawe are ultimately not dependent on its environments. Many of us have felt, at some point, obliged to leave our homes, and these sorts of personal journeys are at the heart of ~gawe. The book has a strong sense of place, but is not about Louisiana, North Carolina, or the Netherlands, but about endings, beginnings, and the ever-present risk and reality of flight.
_asotl is a highly symbolic, somewhat abstract book. It revolves around a wistfulness that never experiences direct description or definition. In _asotl, Cellucci and Shipman's Mississippi River sweeps through their individual and shared memories, offering focus, but no succor, for their ambivalent relationship with their past and present.
~gawe, with its narrative nature, is highly accessible by comparison. It opens with a fearful prayer for New Orleans—that perpetually doomed city—but moves quickly into details of the authors' doomed lives there, and the necessity of their personal exoduses (and the exoduses of lyrical narrative). Cellucci himself was displaced from New Orleans during Katrina, thus living in Baton Rouge from 2005-2019. Although ~gawe is informed by Louisiana's major struggles, it focuses on the personal reasons Cellucci and Shipman left the area—the emotional factors which precipitated those decisions. As anti-poet Kenning JP Garcia says about the book, "not all nostalgia is naive and positive." There's a lot of homesickness in this book, a longing for a place which is fundamentally bad for our authors. With curiosity and insight, Cellucci and Shipman consider their stories—their new environments and their memories of south Louisiana, page after thoughtful page.