Smeetha Bhoumik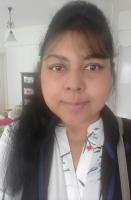 Smeetha Bhoumik is a poet, artist, editor, founder of the WE Literary Community, founding editor of Yugen Quest Review and author of two poetry collections.
In art her major theme is the Universe Series in oils and mixed media.
Her poems feature in national/ international journals, anthologies including The Polaris Trilogy - Poems for the Moon 2023, TMYS Review- Stories & Poems on Culture & Identity, (Readomania, 2022), Sunflowers – Ukranian Poetry on War, Resistance, Hope, Peace (River Paw Press, 2022), Oxygen – Parables of the Pandemic 2022, Quesadilla & Other Adventures 2019, Muse India 2017, 2018, Life and Legends 2018, Modern English Poetry by Younger Indians– Sahitya Akademi, 2019, among others.