Smeetha Bhoumik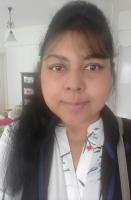 Smeetha Bhoumik is a poet, artist, editor, founder- WE Literary Community, 2016, founding editor Yugen Quest Review, 2021, Chief Editor of Equiverse Space -A Sound Home In Words (2018), and the author of two poetry collections. As founder- WE, she is instrumental in establishing the WE Poetry Awards.
Her poems feature in national/ international anthologies including the Polaris Trilogy, 2023, Oxygen – Parables of the Pandemic 2022, TMYS- Food & Drink, 2022, Quesadila & Other Adventures 2019, Muse India 2017, 2018, Modern Indian Poetry – a Sahitya Akademi anthology, 2019, and Open Your Eyes – A Climate Change Anthology.
Her Universe Series has exhibited widely, including the Oxford International Art Fair, 2014, 2015.