"Precious Breath" and "Confessions of a Silent Soldier"
Precious Breath
Dappled shadows mated with light
in obtuse street corners, where
exposed bricks blushed pink in
the golden glow of sodium vapour
lamps, highlighting a stained
guilty knowledge of the dozen unfed
sleeping just round the corner;
here the fair people don't venture
even by day.
                   In the night it's a dead-end.
Drip by Drip the air conditioners leak
onto their sides, their faces, their aching feet.
Into the silence of hunger and the roar of
automobiles, a single tiny drop of
gratitude falls unknown, unheard,
merging in the dust of the wry pavement.
'I got to live another day', says the young mother to herself in wonder!
Her toddler is by her side, asleep.
                      She whispers 'I am breathing.'
A motorcade roars by, unseeing eyes crushing the
night, a very important person on his way to some
meeting.
Drip by Drip the water seeps into the pavement,
soaking them.
                     It was a cold night in Nov '17.
---
Confession of a Silent Soldier
There's a war on -
'Survival of the Impoverished'.
We, the soldiers have looked away
from the battlegrounds, because our
minds have been washed, our hearts
disengaged, our brains numbed by this
societal system that feeds the moneyed
and hides away all traces or rights of the poor...
It is our war &
               we have thrown down our arms  
                                            and looked away.
Oh, we have been trained to
                                          stare off!
Right from the beginning.
      Rolled bundles on streets,
         hungry outstretched hands,
           tearful children, destitute women with infants clinging,
             kids racing with magazines at traffic lights, upturned noses in classrooms
                 towards the underprivileged,
                   schools that wouldn't even dream of admitting less privileged ones, and summarily eject
                   them if a
                        good samaritan somehow got one in!
Yeah, like guests we arrive and depart,
from our own spaces that are falling apart,
awaiting the kiss of resurrection, that we are loathe to give. We are not a part.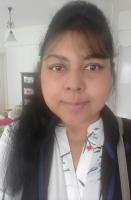 Smeetha Bhoumik is a poet, artist, editor, founder of the WE Literary Community, founding editor of Yugen Quest Review and author of two poetry collections.
In art her major theme is the Universe Series in oils and mixed media.
Her poems feature in national/ international journals, anthologies including The Polaris Trilogy - Poems for the Moon 2023, TMYS Review- Stories & Poems on Culture & Identity, (Readomania, 2022), Sunflowers – Ukranian Poetry on War, Resistance, Hope, Peace (River Paw Press, 2022), Oxygen – Parables of the Pandemic 2022, Quesadilla & Other Adventures 2019, Muse India 2017, 2018, Life and Legends 2018, Modern English Poetry by Younger Indians– Sahitya Akademi, 2019, among others.