"Titicorin," "What to do," and "Mute Conversation"
Tuticorin
The air around is gun metal,
razor sharp wounds to skin
& bone
worn, asking for breath and rights :
their own, excluded from days & nights,
& hours
without end. It is night even in
daylight and every hour inane!
Welcome
Welcome, welcome to our new
ways, new haste, 'othered' rest &
the old touch
of a dying sun that wants to
leach out voice and lung, and
unknowing
departs; taking with it the light
of kindness, peace, love & rights
of every other human refrain.
Hour of twilight flesh in Tuticurin.
Tuticorin
wrought - beating, moulding, shaping
men like red hot copper.
(Tuticorin - where police opened fire on unarmed protestors on May 15, 2018, killing eleven people, injuring others. People had complained tirelessly for the past 100 days against Sterlite Copper Industries, as it polluted groundwater and air).
---
What to do
When people give poetry a bad name :
disjointed words from actions inane,
when people give poetry a bad name!
Vast desolate stretches of unlikely
unguous reeds; actions that kill and
maim, they give poetry a bad name.
Shredding leaves, setting alight lashes
the sound of teeth in them thrashes
to free itself from human patches !
When people give poetry a bad name
disjointed words from actions inane
when people give poetry a bad name :
In those moments we walk out of labels,
and we plant trees, we flow with rivers
towards the seas, we leave 9-5 routines
that 'Look away' & bend us at the knees,
we wake up, to sudden knowledge
that all that was taught was perhaps
not right, the percentiles 90 were for
memory, obedience, not knowledge,
certainly not intellect or insight!
We wake up
we stay up, all night if need be, to
put finishing touches to works full
of the real world they reflect/ set right...
(Looking Away, by Harsh Mandar, a brilliant book diligently researched to expose our inequities).
---
Mute Conversation
Speaking to a silver shadow last evening, we dwelt on
'disappearance', how things disappear, ever so slowly...
on tiptoe. And the silence. Evaporates.
Like water & trust. Few drops at a time, few instances of loss.
And lo! It's gone, a void in the midst of spring, barren, forlorn
vaccuous skylights, holding nothing beyond.
The crystal bell by the door starts ringing, halfway out the chair
I look up, the visitor, bringing in a
vast emptiness. Features locked, lethal. I cannot look away.
Mesmerised, following the dagger as it swings in an arc, slow
motion, the book falls from my lap, i wake
a jangle of raw shattered nerves that has roots in the last
century, so much is now at stake, so much gone. Emotions.
Wonder if a new name be coined to define what is, the old
'known' does seem a little out of place. Silver shadow smiles,
'understatement', she whispers, and then she is gone!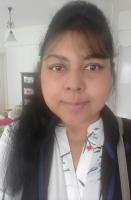 Smeetha Bhoumik's recent poetry features in literary journals like Life & Legends, Muse India, Neesah, Indian Review, and the anthologies  Writing Language, Culture and Development, Africa Vs Asia Volume 1 Anthology and Modern Indian Poetry. Her early poems are collected together in Thoughts Meander.
She is the Founder of Women Empowered-India (WE). WE has poetry at its heart and is a forum for gender equality, awakening the inherent sense of empowerment & justice in every person. She identifies as a staunch feminist, holding up the core values of feminism - equality, justice and compassion.