Animal Planet Exploding in Concrete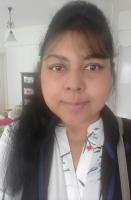 Smeetha Bhoumik's recent poetry features in literary journals like Life & Legends, Muse India, Neesah, Indian Review, and the anthologies  Writing Language, Culture and Development, Africa Vs Asia Volume 1 Anthology and Modern Indian Poetry. Her early poems are collected together in Thoughts Meander.
She is the Founder of Women Empowered-India (WE). WE has poetry at its heart and is a forum for gender equality, awakening the inherent sense of empowerment & justice in every person. She identifies as a staunch feminist, holding up the core values of feminism - equality, justice and compassion.