The Fine Art of Full Body Swimming
Freestyle
Snow groomers push and manipulate snow for recreational use to maintain ski hills and snowmobile trails by moving, compacting and flattening the snow.  Usually this involves the use of a vehicle like a tractor, truck or snowcat or even a shovel.  Snow farmers use this equipment, obstacles and their knowledge and management of snow to strategically manipulate it for the best in snow coverage.  Usually it's used for skiing or to keep snow drifts off roads.  A snow fence is the most popular obstacle used to create drifts and collect more snow in a certain area.  The fence is easy to move when necessary to maximize the collection of blown snow.
I woke up thinking of snow.  It was the middle of the day, cold and breezy, but sunny and warm inside where the sunlight streamed through the windows onto my cot.  The efficiency apartment I had rented was partially furnished with the cot, a plump beige couch, a round kitchen table with three chairs, a TV with cable, a desk and beige lounge chair and ottoman that matched the couch.
The kitchen was by the front door.  I yawned and stretched and headed to the counter to turn on the coffee maker.  I turned the knob, poured in water and coffee grounds opening the fridge to see if there was a soda or something inside to give me quicker access to a morning jolt.
I found some pudding cups.  I couldn't remember if I bought the chocolate pudding at the grocery store or if they were there when I arrived but I pulled back the lid and shoved a spoon in anyway.  The coffee maker gurgled it's final breath.  I poured myself a cup sitting down on the ottoman to stretch my legs.  A sharp knock whacked the door.  I knew who it was before I answered it.
"Jeneva.  You're up early."
She raised her eyebrows shoving a towel and bathing suit in my arms.  "I didn't figure you brought one of these with you what with it being winter and all."
"The pool is indoors and heated, right?"
She shook her head and giggled.  "Yeah, I guess you can call it heated.  74 degrees.  It'll be warmer than all those 6 a.m. practices in the outdoor pool before school.  Remember those?  Then more practicing in the afternoon."
"Maybe they should've had us lifting weights or jogging or something else to strengthen our muscles and tone.  I don't remember being half awake at those, but it was always so cold."
"Yeah and not so good for diving or free falling."
"Nah."  I shook my head and pointed to the bathroom.  The swimsuit was black and red, a swimmer's practice or swim meet suit made of lycra or some kind of water resistant material.  It fit more or less and I pulled my sweatpants and sweatshirt back over the swimsuit unwilling to spend any more time in the mirror looking at my middle age over plump in places body.  I was no longer the skinny stick girl on the swim team.
"Yeah okay it fits" I muttered as I returned to the main room.  Jeneva was propped up on the sofa reading a ski magazine.
"You ever get married?"
"Unsuccessfully."  I sighed and continued "We might as well get this over with."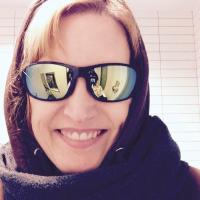 LB Sedlacek has had poems and stories published in a variety of journals and zines. Some of her poetry books are Swim (Alien Buddha Press), I'm No ROBOT (Cyberwit), Happy Little Clouds (Guerilla Genesis Press), Simultaneous Submissions (Cyberwit), and Words and Bones (Finishing Line Press). Her first short story collection, Four Thieves of Vinegar & Other Short Stories came out on Leap Day 2020 from Alien Buddha Press. She also served as a Poetry Editor for ESC! Magazine and published the free resource for poets, "The Poetry Market Ezine," from 2001-2020. In her free time, LB likes to swim, read and attempt to play the ukulele. She recommends the Caldwell Humane Society.