"~getting away with everything" virtual book release party
On November 13, 2021 Unlikely Books celebrated the release of ~getting away with everything, a book of poems by Vincent A. Cellucci and Christopher Shipman! Vincent and Christopher read from the book, and they were joined by literary friends Brooke Champagne and Brock Guthrie, who read their own work, as well as musicians Willis Gordon and Najeeb Sabour, who performed for us.
This is the full footage of the virtual book launch of ~getting away with everything. There was also an in-person book launch in New Orleans, on October 22, 2021.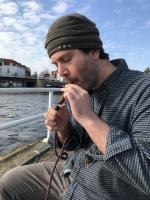 Vincent A. Cellucci wrote Absence Like Sun (Lavender Ink) and An Easy Place / To Die (CityLit Press). He edited Fuck Poems an exceptional anthology (Lavender Ink). He has three collaborative titles: come back river (Finishing Line Press), Bengali-English translation collaborations with Debangana Banerjee, and with Christopher Shipman ~getting away with everything and _a ship on the line (both from Unlikely Books). Vincent performed "Diamonds in Dystopia," an interactive poetry web app at SXSW in 2017, and the poem was anthologized in Best American Experimental Writing 2018. After writing and living it up in Louisiana for 18 carnivals, he moved to the Netherlands to experience sinking some place new. He haunts the TU Delft Library.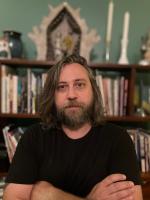 Christopher Shipman is the author of The Movie My Murderer Makes: Season II (The Cupboard), coauthor of Super Poems II (Kattywompus Press), coauthor of Keats is Not the Problem (Lavender Ink), and coauthor of ~getting away with everything and _a ship on the line with Vincent A. Cellucci (both from Unlikely Books). His work appears in journals such as Cimarron Review, PANK, Pedestal, Plume, Salt Hill, Spork Press, and TENDERLOIN. Shipman lives in Greensboro, North Carolina with his partner Sarah K. Jackson and his daughter Finn, where he teaches literature and creative writing at New Garden Friends School and plays drums in the band The Goodbye Horses.

Brooke Champagne was born and raised in New Orleans and now writes and teaches in Tuscaloosa at the University of Alabama. She was awarded the inaugural William Bradley Prize for the Essay for her piece 'Exercises,' which was published in The Normal School and listed as Notable in Best American Essays 2019, and was a finalist for the 2019 Lamar York Prize in Nonfiction for her essay "Bugginess," published in The Chattahoochee Review. Her writing has appeared in many print and online journals, including Under the Sun, Barrelhouse, and Hunger Mountain. She is at work on her first collection of personal essays entitled Nola Face.

Brock Guthrie is the author of Contemplative Man (Sibling Rivalry, 2014). His poems appear in Cimarron Review, Los Angeles Review, New Ohio Review, Rattle, The Southern Review, and elsewhere. Born and raised in Athens, Ohio, he now lives in Tuscaloosa and teaches at University of Alabama.

Najeeb Sabour is a cellist and singer-songwriter originally from New Orleans. Najeeb has a passion for storytelling and using elements such as environment, poetry and art to co-create a new perspective all while weaving his personal journey in each of his compositions. You can find Najeeb on Instagram and YouTube for more content.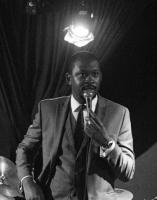 Willis Gordon is a musician, stand up comedian, actor, author, essayist, activist, and veteran of the War on Terror. Gordon is committed to quality entertainment and the improvement of our communities through art, action, and inclusion. He organized the "Rock the Block" voter registration concert in 2016, and continues to register voters and fight for civil rights across Stark County. He is the author of The Long Road Home and The Empty Boulevards. His live album, Willis Gordon: Live! is available anywhere you stream music. He wrote the monthly column "The Road Forward: Practical Discussions on Seeking a Better World" for Unlikely Stories Mark V.