Unlikely Stories Presents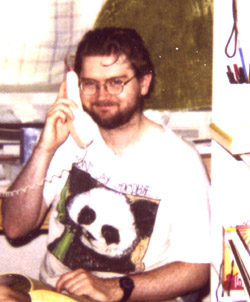 Besides writing short stories, Ben Ohmart has created a new, legitimite poetic genre: the dialogue poem. In the dialogue poem, two or more characters are chatting back and forth, with no punctuation or quotation marks to distinguish the one character from the other. Blank space and conversational style alone separate the speakers. No part of the poem is not in a character's voice.
Because they are a creation of Ben Ohmart's, dialogue poems are always comedic. All of Ben's works are humorous, although some of them may or may not contain a higher meaning. His works are abstract, and are probably avant-garde (but I don't really know what that means, so I can't tell you).
Ben is a playwright and composer, has written for the stage, television and film. His most recent stage works include Ooglesnort Part II, a Pythonesque revue; Caliban, an absurdist reinterpretation of Shakespeare's The Tempest; Daughters of Rage, a ballet based on Garcia Lorca's play, The House of Bernarda Alba and commissioned by the Dance Department at Florida State University; Henry, an opera about William Rufus, William the Conqueror's son; Two Panic Plays, a translation and adaptation of two plays by Fernando Arrabal, performed at Syracuse Stage After Hours; and The Friendship Play, commissioned by the Groves International Committee on Friendship and the Family. The Tell-Tale Heart, an opera based on the Edgar Alan Poe short story, was commissioned by WFSU television and scores for Stonewall: Old Blue Light and Jesse: The Jesse James Musical were commissioned by Theatre West Virginia and the University of Mississippi, respectively. A finalist in America's Best Comedy Script competition, Ben is a professional gag writer with several published and performed routines to his credit, as well as many poems and stories published in journals across the country, including A Madman's Dream, Black Bear Review, Interbang, 13 Magazine, Reflections, X-Ray Magazine, On the Road, Artisan, Alternative Press Magazine, Reptiles of the Mind, D.C.C.R., Transcendence, Sparks, Planet Chaos, Zap Inc., The Wicked, Sink Full of Dishes, Buddagus, Parthenogenesis, Skidfish, The Arm's Extent, Furry Chiclets, Holy Temple of Mass Consumption!, Mongoloid Moose, The Subterranean, Buffalo Speedway, Crying Clown, White Crow, The Terminal Journal, Farm Pulp, Frayed, Children Churches and Daddies, Gortday Review, Kaspahraster, Vox, Suffusion, 10 Things Jesus Wants You To Know, Feh! and The Iconoclast. His translations (in collaboration with John Franceschina) of the plays of the Marquis de Sade are published by Hollowbrook, and his musical adaptation of The Jungle Book was recently toured by Syracuse Stage. He is currently writing films, and his plays were performed in Canada, Indiana, Minnesota and Australia this year. Lyrics to his credit will be on two CDs this year; a gothic album and a rock album. He's 26, single, and loves British comedy. He lives in Boalsburg, Pennsylvania, right next to PSU, and enjoys watching rabbits eat his garbage. If you dare to E-mail him, he's at findline@mindspring.com.
Ben's works here at Unlikely Stories are:
July 1998 - July 1999:
Moses Saw Me
Our Pricing Plans
Your Priest Your Problems
Deals with the Devil Help
Zoot
I Need Grass Stain Approval on Aisle...
The Drive Home
Two Sisters' Thoughts as they Plummet to Hell
Stimuli
State Contends
With Ourselves: Shag Carpet