Your "Florida Sucks" Memes Probably Suck
It's easy to say "Fuck Florida"
because of the Christians who like big sweaty fake tits
and wear t-shirts and hats to emphasize their enthusiasm,
but on a bridge made entirely out of glued dimes
they'll sign off on murdering a gay couple
who happened to have one of those devastating PDAs
that can't help but force everyone to come to terms
with people who are in love and would prefer to be left alone.
 
It's easy to say "Fuck Florida"
because Ron DeSantis is a sentient cum sock
who even if he's not a particularly successful Hitler clone in the long run
is going to hurt a lot of wonderful fucking people before he's through.
 
It's easy to say "Fuck Florida"
because, well, fuck the whole shivering bunch of urine-guzzling peons
who made it easy to threaten a teacher who showed a shitty Disney movie
with the usual shitty Disney LGBTQIA+ representation. Caring about kids genitals that much
sounds like real groomer shit to me, guys, but what do I know.
 
It's easy to say "Fuck Florida"
even though Herschell Gordon Lewis was born there,
and that would normally count for something
when I'm drunk and trying to remember
to take little self-care breaks whenever I've been online
reading about the news in Florida and elsewhere for just a little too long. And that's all the fucking time you see. Because I'm online, writing
and doing research for 29,000 hours a day. And no, no,
no, that's not an exaggeration.
 
It's finally (and most importantly) easy to say "Fuuuuuuuck Florida"
because I can say that and still stand with everyone
who lives in Florida
and says "Fuuuuuuuuuuck Florida" every single hour of the day
in their hearts or wherever because they're very, very, very tired
and probably more than little scared.
 
"Fuck Florida" because who the fuck can blame them?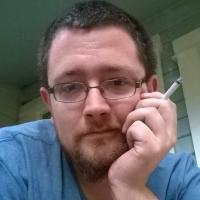 Gabriel Ricard writes, edits, and occasionally acts. He is a contributor with Cultured Vultures, a contributor with Drunk Monkeys, and an editor with Kleft Jaw. His first book Clouds of Hungry Dogs is available now. He lives on Long Island.