"State of the Union" and "Independence Day Celebration"
State of the Union
contempt of congress
weapon of mass confusion
the clock ticks for us all
---
Independence Day Celebration
As we lift off, the flight attendant announces
active duty soldiers are on board, and we applaud.
At the afternoon concert, the parade and the pyrotechnics
at the arboretum, will the fanfare feel genuine?
Will our troops throughout the world feel the lyrics of Hamilton:
"Look around, look around at how lucky we are to be alive right now"?
Will the U.S. special operations forces in Tal Abyad
hear the live cannon fire during Tchaikovsky's "1812 Overture"?
Will protesters of the Senate health-care bill
see the display of fireworks from their jail cells?
Will the Army Herald Trumpets, the official ensemble
for the President of the United States, add splendor to the day?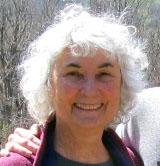 Born in Schaffhausen, Switzerland, Gaby Bedetti is the American translator of Henri Meschonnic's work, a contributor to Lexington's poetry blog and a teacher at Eastern Kentucky University. While completing her PhD in comparative Literature, she co-founded the University of Iowa Museum of Art Bulletin. She has published in Off the Coast, Poet Lore, Italian Americana, Diacritics, and elsewhere.