A few weeks later, at the end of the work day, Stuart and Brady stood on the loading dock, ending the day with a cigarette. "You see that Pine Mountain killer got life without parole."
"Hope he gets a cellmate named Bubba."
"And hey I forgot to tell you Jared really appreciated you getting him that deer skull. He's got it mounted on the headstock of his guitar. Painted it blood red. Where'd it come from anyway?"
"Just found it out there," Brady inhaled. "Deer got to die too. It's all natural. The big cycle. Death follows life. Life follows death."
"Yeah, just like how the kid told me yesterday that he's knocked up Candy, you know his so-called business partner. She's pregnant and already moved into our basement. Jared says he's a man now. Thinking about going back to his natural hair color, quitting school and workin' fulltime. Maybe we can get him in here? We could use an extra hand in the warehouse."
"Guess so, but when he applies for a job with the hospital, have him wear a shirt with a collar that covers up that tattoo. It's a little edgy. You know how they are over at HR."
"Maybe then I could start charging him rent." Stuart took another drag, stubbed out his cigarette and flicked it into the parking lot. "But one thing I can tell you for sure, that Candy is gonna start going to our therapy sessions. She's a real piece of work."
"Good luck with that. You been lying to that doctor anyway, haven't you," Brady offered Stuart another cigarette.
"Sure, never stopped smoking, just took it out back."
"And Jared doesn't play video games, just throws knives at his pregnant girlfriend?"
"You gotta be kiddin'? He's bent over that Playstation every night, after his mother's gone to bed. I get up and do it too when I can't sleep. It's a father and son thing, shootin' and killin'."
"And what if Marylou catches you two?"
"Oh, she's got her own things to hide from Redfern. Already had it with the new diet. Tired of fish and chicken. Some folks at church been supplying her with venison," Stuart smiled. "Sautéd up with those chanterelles. Wild flesh always tastes better with mushrooms."
"Gonna be a big minus tide this weekend," Brady changed the subject. "Maybe we should head out to the Coast and dig for razor clams."
"Sounds good to me. How about I bring the boy?"
"Sure, he can be our lookout for those sneaker waves."
"I'll see if I can't get him to leave the switchblade at home."
"Naw, have him bring it along. We'll teach him how to clean the harvest."
"Yeah, good idea," Stuart agreed. "He'll enjoy amputating the foot and yanking out the guts."
"Add some slimy bivalve to your next therapy session."
"Right. Could be part of Jared's plan."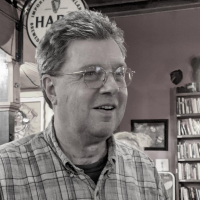 Casey Bush is a Portland poet whose eighth collection Student of Hippocampus was published in 2018 by Last Word Press (Olympia, WA).  His essay "Sisters Around the Cauldron: Mary Barnard and Her Sappho" was recently posted on the Berlin based website The Decadent Review.  Casey is the poetic voice of Notes & Motes: The Vlatkovich Trio Plus One.  He recommends Planned Parenthood and the Southern Poverty Law Center.